Image and gesture
It is worthwhile taking a closer look at how images are formed.
Image formation starts with observation. The more you have observed, the better you can form a fleshed-out concept. You must observe both accurately and attentively. You can observe in an artistic, slightly naïve manner, consciously balancing the parts and the whole. Any time that you think: "That's not important", you have probably missed something. It is important to make as few judgments as possible while you are making observations. Drawing conclusions is not the same as using concepts: you must use concepts to lay down the observation, to describe what you see. You might find it useful to draw your observations; drawing can make your own role in the observation more apparent. You can use your drawings later, when you are ready to construct your image.
After you come home, start constructing your image. Try to remember as much as possible of the object or situation, and try to give everything a logical place. Try to create your image artistically by combining certain aspects or arranging them in a coherent sequence, instead of building fact by fact. Different observations can merge in an image, thus enriching the image. Continue doing this until you have a lively image of what you observed earlier. This can be done whle drawing. Bockemühl often did this.
The image should include your impressions and your -honest, not self-centred, feelings about the object of your observations. Include feelings such as: a mighty tree, a full-bodied plant. Do not include emotions such as: what a beautiful, or ugly, plant.
Next to imaging one object, you could also do this for a series of observations of objects, or for all your observations of oaks or blackbirds. In this way, your image becomes a typical image rather than an exact image.
When you've set out your observations in front of you again, having in a way recreated them, the image might reveal something that seems to express the whole. This unity becomes apparent, and you get a real idea of what for example Glechoma hederacea is. You might perceive this as a mood, or a gesture. You can see that it is typical, it stands before you clearly and you can see it in all parts of your observation. It enables you to see the whole in each component of a plant, a tree, and animal.
Once you have interpreted the gesture, you can start learning nature's sign language. You can "learn to read nature's book". You develop a sense for what things are trying to tell you. You have united your search for the sensory reality with your soul-search for the true being of things. Once you have an image of the characteristics or the type of something, you can derive other shapes which might not yet exist in nature, but which you might be able to create.
Creating a conscious image is called empathic observation.
Goethe was the first to use this method to gain an understanding of nature. He distinguished three phases: imitation, the mental image in one's memory, and discovering the true manifestation. In this way, he discovered the image of the prototypical plant, the 'gesture' of the plant which, Goethe maintained, lies at the basis of all plants.
An example
In a lane, there is an oak which is exposed to the full force of the wind. The branches on the windward side break the gusts: the trunk and the dark, sturdier branches don't give an inch, the smaller branches and twigs sway but a little. Then a branch breaks off. Next to this oak tree is a birch tree, its trunk shudders with the wind, its delicately shaped branches sway, and leaves and twigs blow away. It is as if the birch does not resist the wind.
You can make these observations on a windy day. Later, you can imagine what you observed, thus creating an image of the event. You can also feel so much empathy for the two trees that you can almost experience or perceive what forces were at play. You can feel the resistance and stiffness of the oak, and how frail this resistance is when a branch gets broken off the tree. With the birch, you can feel how it gives in to the wind, how every so often a twig blows off, how supple and pliable the tree is. You attribute resistance to an oak, and pliability to a birch. If these concepts are correct, then you will be able to recognise them in all the different parts of these trees. You will see it in the leaves (the tough, unbending leaves of the oak and the light rustling leaves of the birch) and the seeds (the heavy acorn with the hard shell, the light birch seeds which carry on the wind).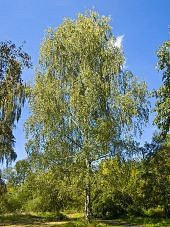 Oak Birch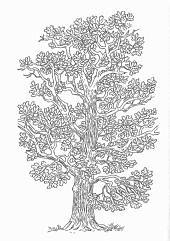 Oak Birch
Exercises
Go out and observe; draw what you see. Come back inside and make a drawing of what you saw from memory.
Observing two trees
Choose two trees of different species standing close together. First, observe their exterior. Then search for their dynamic expression by mentally putting yourself in the tree's place. Discover the characteristic processes and characterise each tree species. In this exercise, it is important that you compare the two species. This will make it easier to find their characteristisation.
Wood and inspiration
Go into the woods and look around. See all the natural chaos on the ground. See the torn-off branches and uprooted treetrunks. Keep looking until you see a piece of wood that you like and in which you can see some sort of shape. Take this piece of wood and carve it until it reveals more of what you saw in it. Make the shape more defined.